More Money Collected from Insurance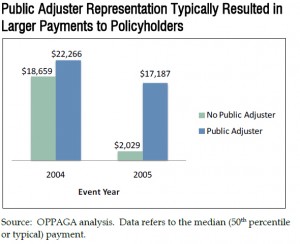 Don't Settle for what the insurance company offers you! New Claims, Old Claims, Underpaid and Denied Claims!
Let Us review your claim before you settle!
Hiring a licensed public adjuster who understands your policy and knows how to deal with your insurance carrier will, in most cases, not just save you a lot of time, but will also result in a much higher settlement.
Below is a list of claims that we have assisted insured with. We have been able to achieve 2-5 times more money for these insureds. It's time someone was on your side!
Don't Forget Burden of Proof Lies on The Policy Holder!! Insurance company hire their own adjuster, Why Don't You!@
CLIENT
CITY
AMOUNT INITIALLY
OFFERED
AMOUNT OBTAINED THROUGH
ALL AMERICAN
PUBLIC ADJUSTER

Sylvio

Miami,Fl
$0.00
$21,336.45

Shahid

St. Louis,Mo
$9,079.17
$55,077.87

Frank

Wisconsin,
$10,613.32
$35,581.80

Edith

Ft. Lauderdale
$3,606.86
$18,707.27

Clara

Atlanta,GA
$6,954.72
$15,543.31
Marie
Virginia Beach,Va
$3,584.18
$20,099.65

Christine

New York City,NY
$26,929.00
$46,583.35

Hans

Denver,CO
$9,000.00
$32,590.00

Nancy

Fort Lee, NJ
$12,912.57
$102,387.19

Jean

Phildelphia,PA
$23,000.00
$65,813.57

Siramise

Minneapolis,MN
$3,000.00
$21,419.44

Orlando

Oklahoma City,OKC
$0.00
$30,000.00

Percise

Chicago,IL
$6,300.00
$30,137.36

Eduardo

Dallas,TX
$7,228.47
$32,381.24

Victor

Kenner,LA
$9,000.00
$50,000.00

Josse

Jacksonville,Fl
$5,230.38
$64,620.66

Bridjoha

Jefferson,GA
$0.00
$178,791.04

Shahid

Detroit,MI
$57,830.58
$216,678.12

Rafiq

Warwick,RI
$27,525.23
$85,171.11

Gilda

New Orleans,LA
$0.00
$41,858.76