Burst Freezing Pipes and Maryland Homeowners Insurance Flood Damage
Maryland residents will face some major weather changes again causing freezing temperatures to take a major tole on properties, residential and commercial. Many types of damage they could face are power outages, freezing pipes, flood damage, ruined carpets from water damage, roof damage from ice dams. Knowing your insurance policy is crucial when dealing with these types of insurance claims.A public adjuster is a licensed and bonded claims expert. We are highly knowledgeable in property damage, insurance policies, and negotiating and settling insurance claims. When a disaster occurs such as freezing pipes after recent storms and freezing temperatures, you need to be prepared for a battle. Insurance companies are there to protect their best interests, make sure your protect yours. Hire a public adjuster today to assist you with your frozen pipe or water damage.


We Will Represent You and Handle Your Claim


File or Re-Open Existing claim
Investigate and Document Claim
Inspection with Insurance Company
Negotiate the Maximum Insurance Claim Settlement
What we do for you:
Document Property and Contents Damage
Maximize your insurance claim and minimize your stress
Negotiate the insurance claim for necessary repairs or replacement for the loss
Provide detailed estimates for the loss
Reopen denials and ensure proper reimbursement
Residential and Commercial Claims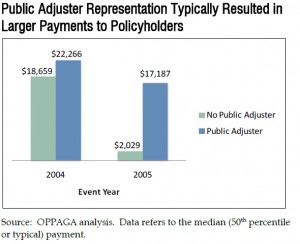 SPEAK TO A LIVE PUBLIC ADJUSTER!

CALL FOR A FREE INSURANCE CONSULTATION



1-888-550-9336
A licenced public insurance adjuster is available right now to discuss your claim.

Insurance Companies have their own adjusters,
Why don't you?
Call for a Free Consultation today