All American Public Adjusters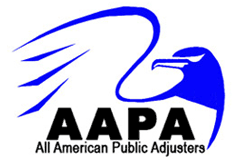 At
All American Public Adjusters
, our goal is to help you when disaster strikes. We will come to you and
evaluate your property damage
along with your policy information. We will assist you with
properly reporting your loss
to your insurance company. We will then prepare an estimate for your insurance carrier and work with your
insurance adjuster
to get you the
maximum settlement
.
All American Public Adjusters have years of experience handling property damage claims.
Our company is extremely knowledgeable and experienced with reference to
property damage, code requirements, law changes, and insurance policies.

All American Public Adjusters has a team of experts to assist you in ANY of your insurance claim needs.   If you are initiating a new claim, in the middle of a claim, or you are not satisfied with the outcome of your claim, we can help!
What All American Can Do For You
Assist you with properly reporting your loss to your insurance company
Prepare and estimate for your insurance carrier and negotiate with your insurance adjuster to get you the maximum settlement
Handle all the communication necessary to your insurance company and any affiliates, minimizing your stress throughout the process.
Use our experience and expertise in insurance policy, claims and insurance law to provide clear and understandable resolutions for the homeowner
Represent you as your personal adjuster.  Insurance companies have their own adjusters. You can hire one as well!  Best of all, if we don't get you your insurance money you don't owe us anything!
Insurance companies will not fully represent your interests. If you submit the claim yourself you can be sure that the interests of the "company" will come first. This is not out of the ordinary, this is just "business". The less they pay you, the more assets the "company" retains for its stockholders. Be assured that if an offer is made, it will, in most cases, be less than you are rightfully entitled to. Remember, the insurance company's personnel are paid to protect the interests of the insurance company and not yours.
All American Public Adjusters, Inc are licensed and bonded public adjusters throughout the United States. We can assist an insured with Residential Property Damage, Commercial Property Damage, Automobile Damage, Unpaid Medical Bills. Some types of claims that we handle are water damage, sinkholes, fire damage, hurricane damage, hail damage, wind/windstorm damage, mold damage, vandalism, and much much more. Our company is a member of the Florida Association of Public Insurance Adjusters as well as the National Association of Public Insurance Adjusters.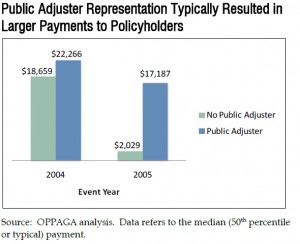 SPEAK TO A LIVE PUBLIC ADJUSTER!
CALL FOR A FREE INSURANCE CONSULTATION
1-888-550-9336
A licenced public insurance adjuster is available right now to discuss your claim.

Insurance Companies have their own adjusters,
Why don't you?